The goal at Piranha is to improve your production efficiency by speeding your production, increasing your accuracy, and reducing your fabrication cost.
Their lines of metal fabrication machinery will help you deliver the highest quality with greater profits. Piranha solutions include fiber LASERs, punch-plasma combination machines, plasma cutting machines, heavy-duty hydraulic bending rolls, ironworkers, press brakes, plasma tables, and an extensive line of machine tooling.
Their team is constantly at work to find new solutions that produce more precise parts, in the least amount of time.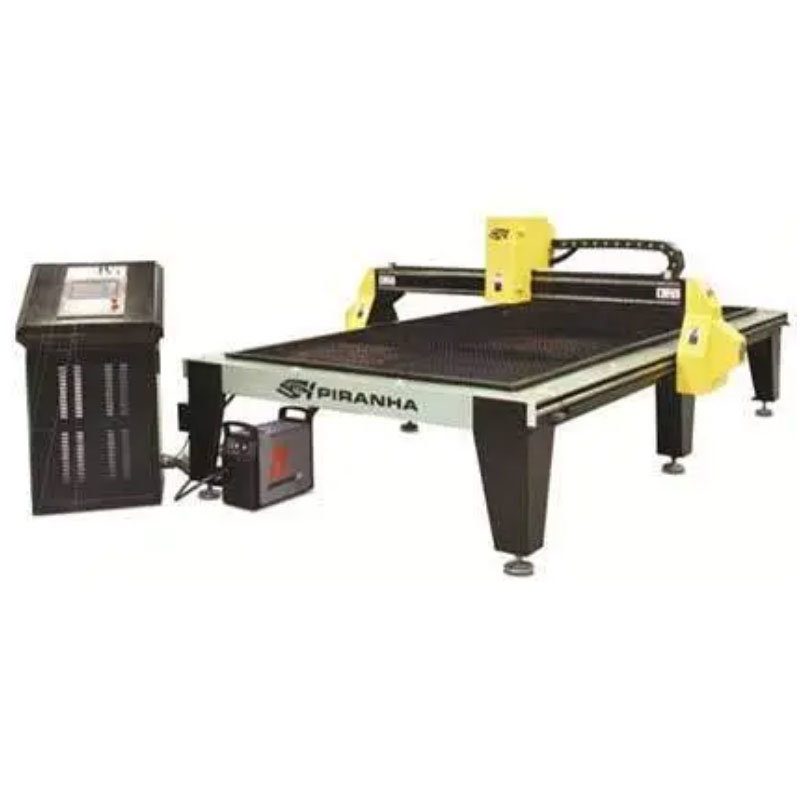 B Series
Piranha's latest Plasma Table line introduces an even more affordable plasma table. The Piranha B-Series Plasma Table is perfect for your hobby to light industrial cutting needs. This table retains a lot of the high-end features found on the C-Series table and only is short some of the things you don't need when looking at lighter duty cutting cycles.
RUGGED CONSTRUCTION: An all-welded steel tabletop with bolt-on legs. The B-Series Plasma table comes standard with a water table (not down-draft) and utilizes stepper motors on the X and Y-axis.
AFFORDABLE: A solid, high-quality machine at an affordable price for your Hobby to light industrial cutting needs.
CNC CONTROL: This fully integrated system is ready to take on any design or part you throw at it. With an extensive shape library and LCD monitor – we will have you operating as a fabricator should.
DUAL SIDE DRIVE: With motors on both sides of the Y-axis, we give you maximum stability and the highest part quality.
BREAKAWAY TORCH MOUNTING: Your torch stays protected from inadvertent part tip-ups.
HYPERTHERM PRONEST LT 2019: All you'll need to get the job done with DXF importing, editing, and an NC code generator.
MICROSTEP® PROGRAMMABLE TORCH HEIGHT CONTROL: Consistent programmable torch height control means you're getting the perfect part every time.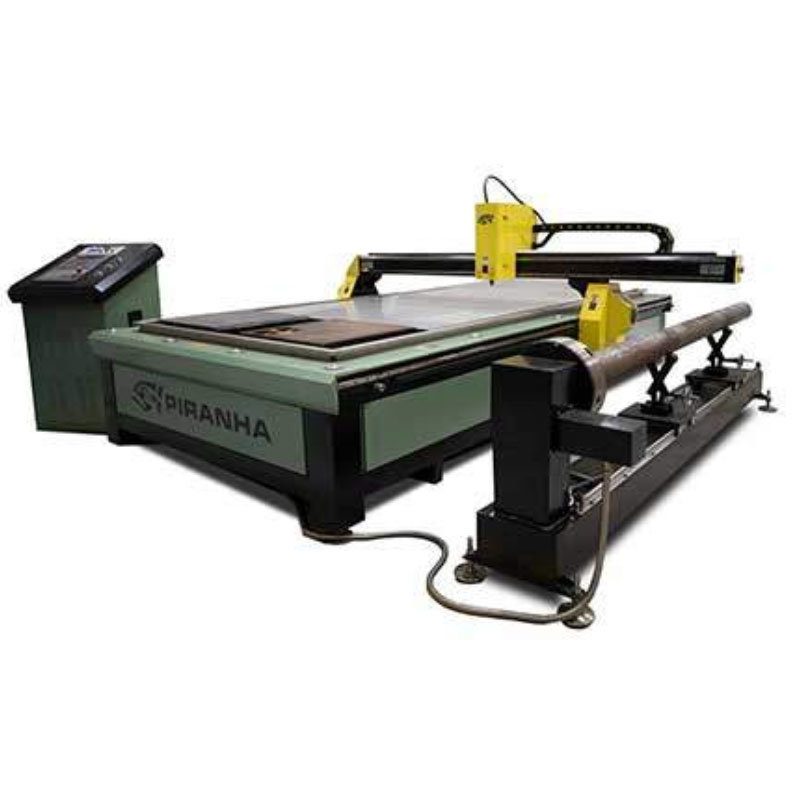 C Series
Piranha C-Series plasma tables provide a reliable quality plasma cutting solution at a low investment level, making Piranha quality and durability attainable for a broader range of shops.
Real machine tool construction at a great price
Solid – Built to last
Piranha support, parts, warranty, and easy startups
Available in 3 sizes – 4'x4′, 4'x8′, and 5'x10′
Welded tube frame
Servo control drive motors
Dual side drives for better positioning accuracy
Linear guides and bearings for best accuracy
Hypertherm Powermax from 45 amp to 125 amp available
Hypertherm ProNest LT offline software
Optional pipe cutting attachment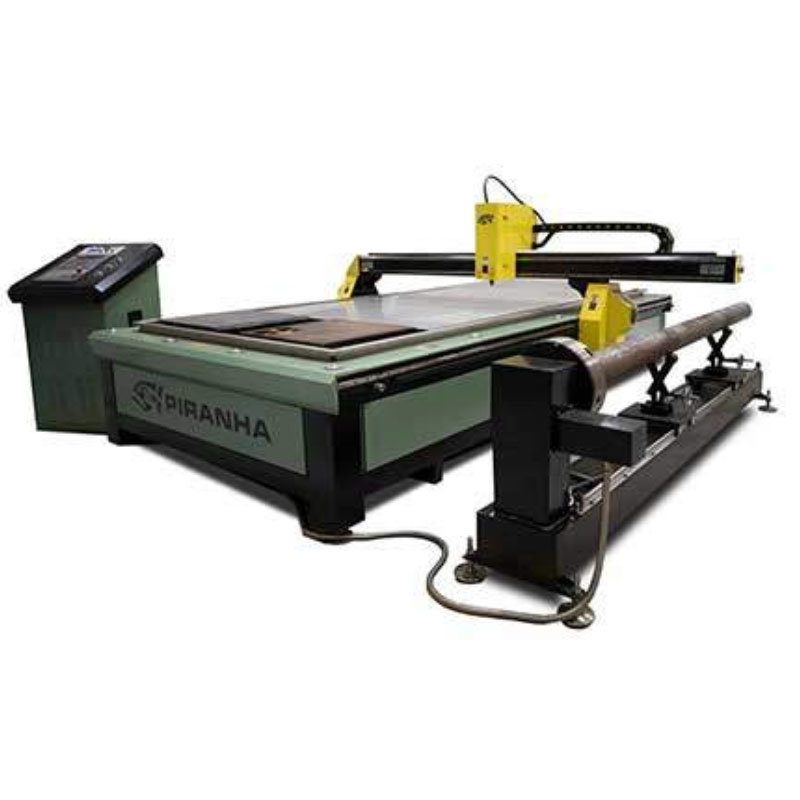 HD Series
Piranha HD Plasma tables provide near LASER cut quality for a significantly lower investment than fiber LASER cutting. That makes Piranha HD plasma tables an excellent value for precision cutting, at a cost lower than competing plasma cutters.
Welded frame – not bolt together
Hypertherm CNC controls with shape library and easy to use interface
Panasonic servo motors – high power for good contour definition and 800 IPM rapid speed
Dual side drives for better positioning accuracy
Zoned downdraft table with six zones for efficient fume extraction
Breakaway torch with sensors
Plasma systems ranging from Hypertherm Powermax 125 to XPR 300

Hornet Cutting Systems is an industry-leading manufacturer of CNC plasma cutting machines, oxy-fuel, and waterjet cutting machines. Their diverse collection of CNC cutting machines delivers solutions for a wide variety of customers and applications, helping you maximize performance.
Their high-quality OEM Hornet cutting machines have helped hundreds of customers across the world increase their profitability and boost their bottom line.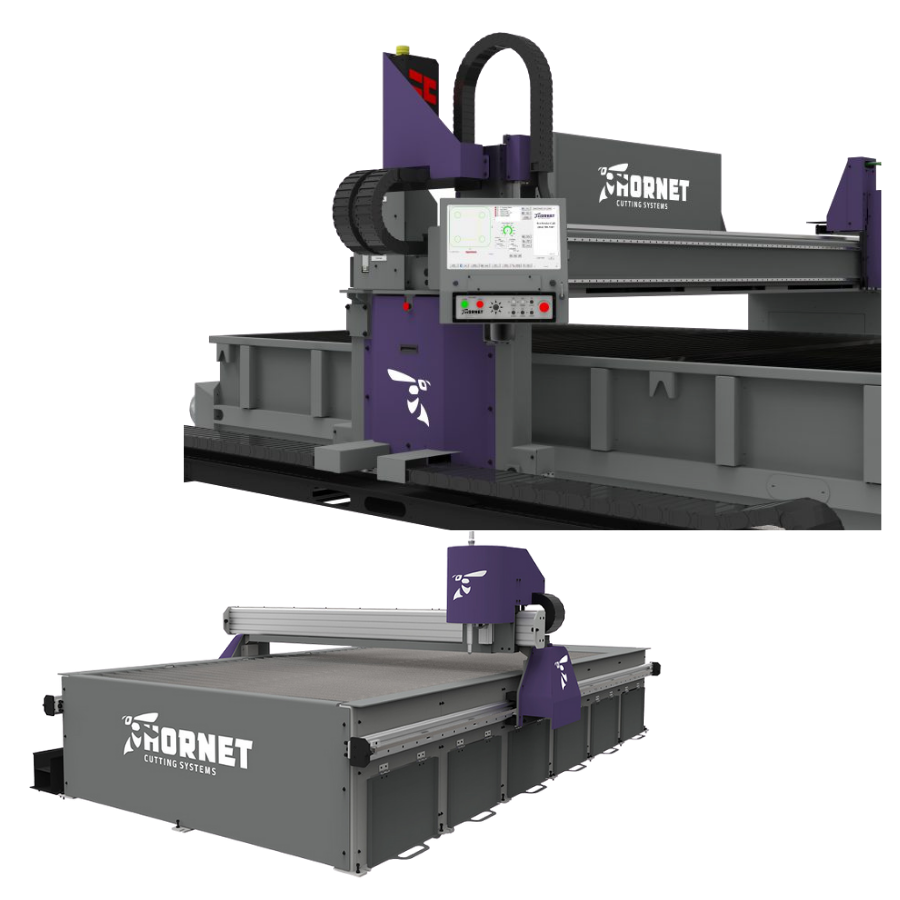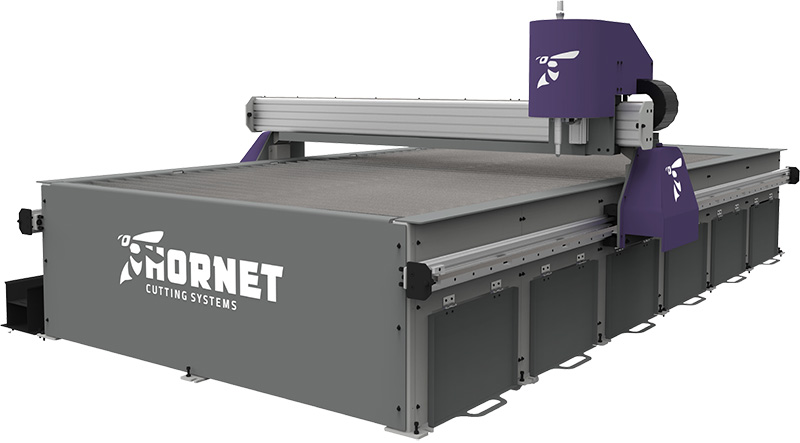 Hornet LT
The HORNET LT industrial-quality cutting machine provides superior performance at an entry-level price. Through its best-in-class motion, unitized design, and compact footprint the LT brings speed and productivity to shops of all sizes.
Full factory assembly
Standard open bottom table; water tray and zoned duct optional
Plug and cut controls
Robust-tube frame construction with 12mm hardened bearing shafts
Fully enclosed cable power track
Powder-coated metal surfaces
Standard high-reliability motion package
Upgradable to faster speed and high-definition plasma options as your business grows
Easy-to-operate software control interface and intuitive CAD/CAM drawing/nesting tools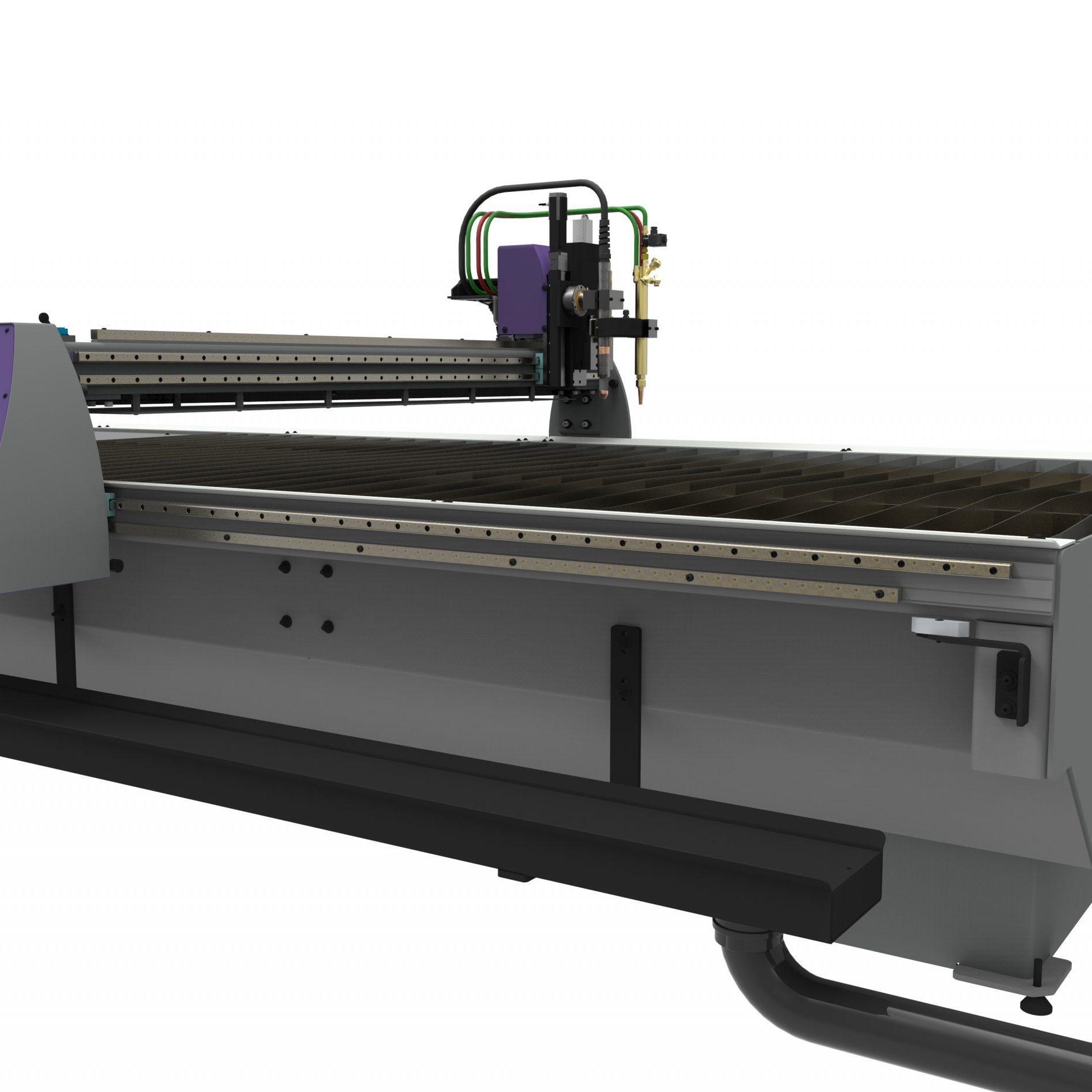 Hornet SS
The Hornet SS CNC plasma cutter is configured with heavy-duty components to deliver decades of unmatched cutting performance. This CNC plasma machine is designed for customers who require a unitized industrial quality plasma table with no more than one plasma torch and one oxy-fuel torch. The Hornet SS may be configured with an integrated CNC cutting table in either a water table or downdraft air table design.
Hypertherm Plasma Edge Connect CNC Control with Phoenix CNC software
Heavy Wall Steel Tubing Machine Frame and Gantry Beam
Fabricated End Trucks
1,000 IPM Rapid Traverse Speed (25m/min)
Tucked 20mm Linear Guides on Main Rail Axis (X)
Dual 20mm Linear Guides on Cross Axis (Y)
Alloy Steel Pinion Gears
Tucked 3/4" (19.5 mm) Gear Rack
Planetary Gear Heads
Enclosed Flexible Cable Carriers on Both X & Y Axis
Tool Carriage for Two Tools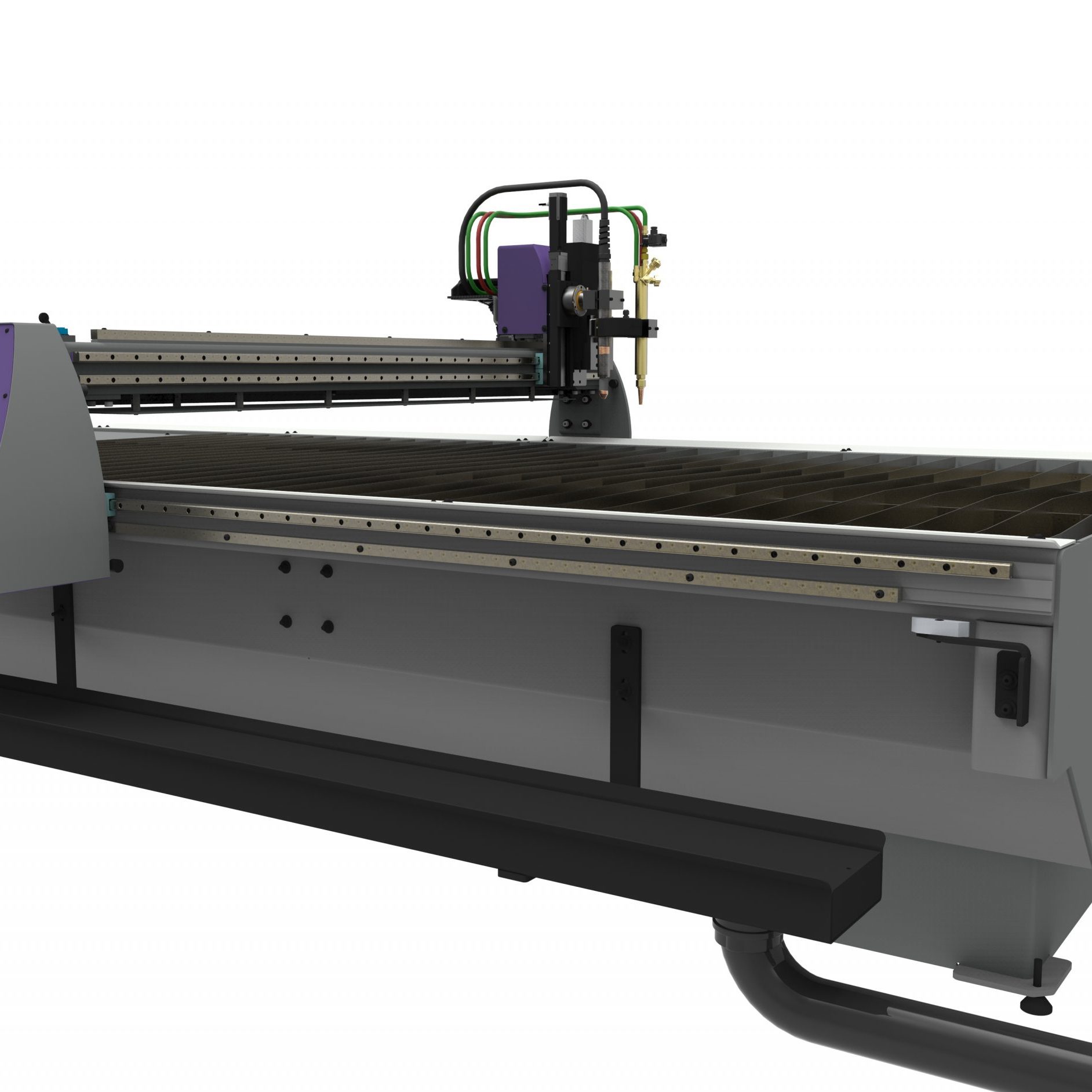 Hornet HD
The Hornet HD CNC plasma cutter delivers maximum productivity, helping you get more done in less time. The Hornet HD includes a Hypertherm PC based CNC control, a heavy-wall steel tubing machine frame and a gantry beam, precision ground linear rails on both the X & Y axis, powerful AC servo motors and low backlash planetary gearboxes. The gantry beam and cross-axis carriage ride on precision ground linear tracks to deliver premium motion control and accuracy.
Hypertherm Plasma Edge Connect CNC Control with Phoenix CNC software
Heavy wall steel tubing machine frame and gantry beam
Fabricated end trucks
2100 IPM (53.3 mm/min) rapid traverse speed
Tucked 30 mm linear guides on main rail axis (X)
Dual 20 mm linear guides on cross axis (Y)
Alloy steel pinion gears
3/4" (19.5 mm) helical gear rack
Planetary gear heads
Flexible cable carriers on both X & Y axis
Tool carriage for one plasma & one oxy-fuel torch station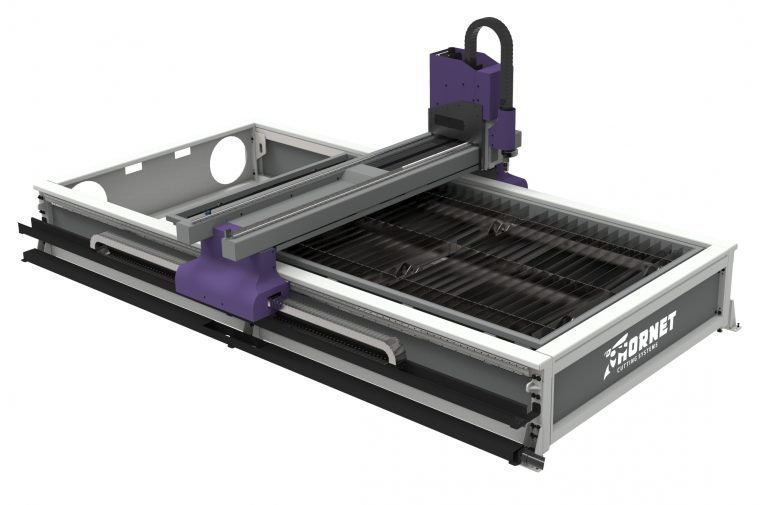 Hornet HDX
Our ultra-fast Hornet HDX CNC plasma cutter sets the standard for acceleration, accuracy, and productivity in its class. Its rigid machined dual-beam gantry is engineered to handle the 1/4 G acceleration created by its 3,000 IPM (76.2 MPM) rapid traverse speed, and provide the stiffness necessary to handle the torsion created by the contour bevel system.
Weld-ready beveled parts
Produces bevels 360° around parts at up to +/- 52°
3,000 IPM rapid traverse speed
1/4 G acceleration
Complete perimeter safety system
Manually switch from Low Speed to High Speed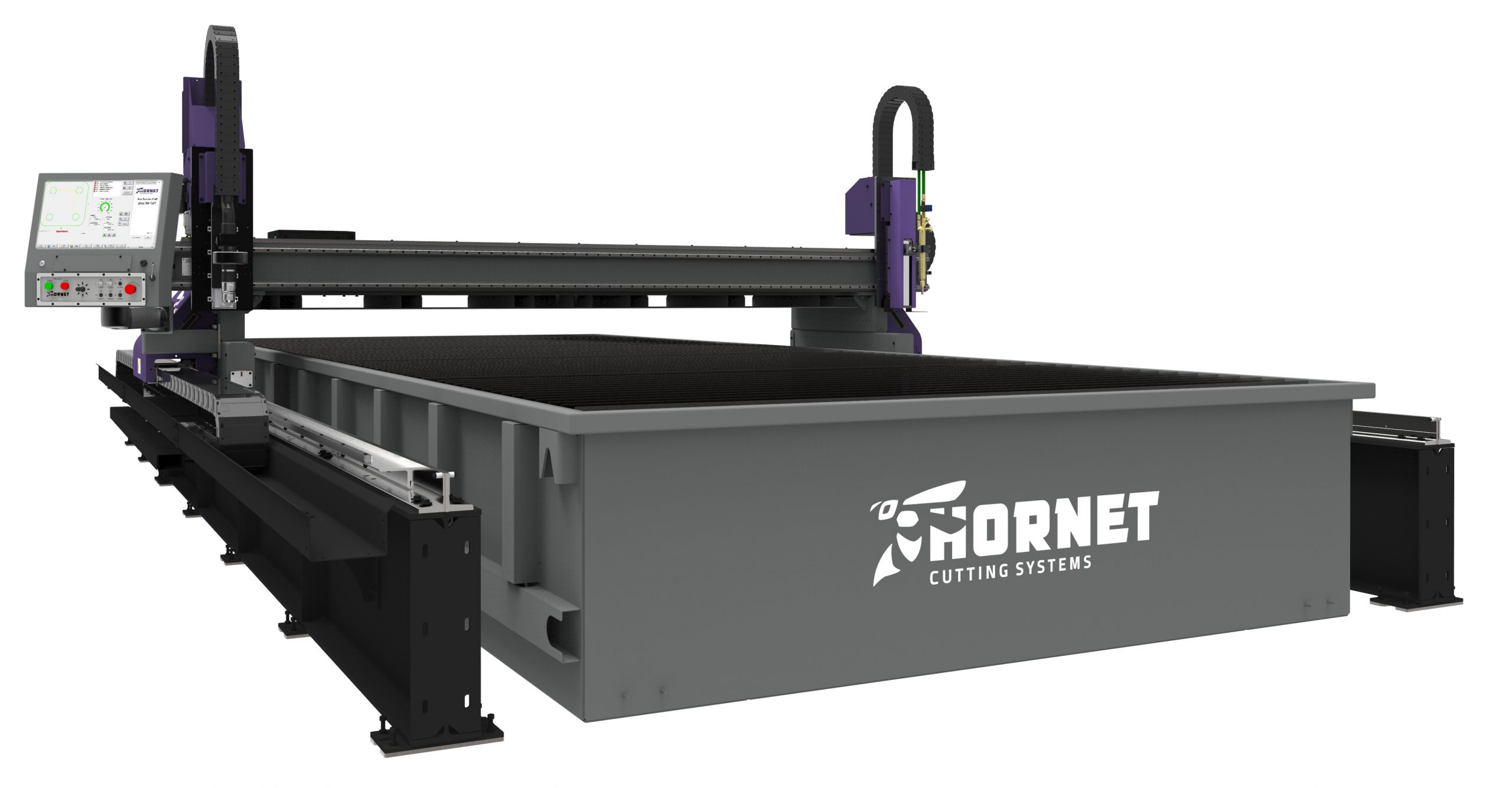 Hornet XD
The Hornet  XD CNC plasma cutter is built for strength. Powerful 480V AC SERVO motors drive a stress-relieved, machined beam along structural I-beam mounted rails. The result is a CNC plasma machine with superior durability and reduced maintenance.
Remote Pedestal
Plasma Systems up to 400 Amps (2 max)
Manual Bevel Attachment or Contour Bevel System
Arc Shield
Air Dryer
Air Pressure Booster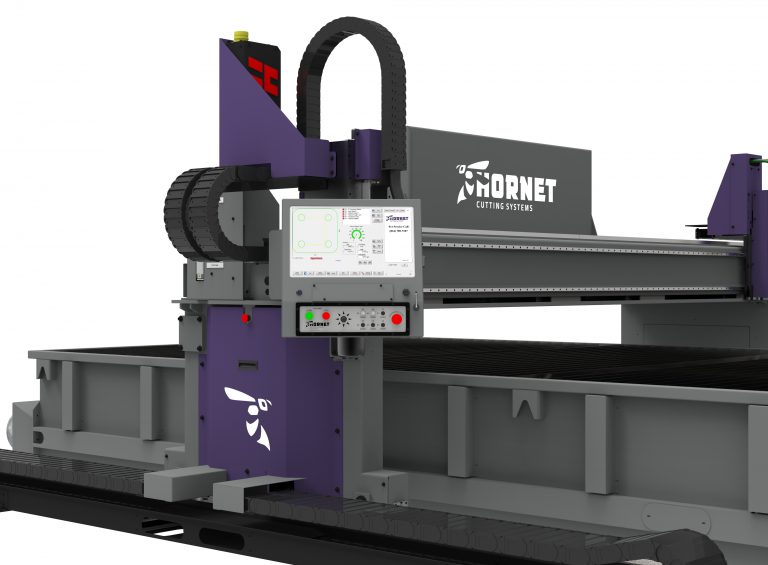 Mega Hornet 1000
The Mega Hornet 1000 CNC plasma cutting machine has an enormous frame and massive servo drives to deliver decades of reliable service to shipyards, service centers, and manufacturers. A welded and stress relieved gantry beam and fabricated steel end trucks enable the Mega Hornet 1000 CNC plasma cutter to span up to 14 feet (4.3m) and carry up to 6 cutting and marking processes. The CNC plasma machine includes the Hypertherm Edge Connect CNC control with support for True Hole™ and Rapid Part technology.
Hypertherm Edge Connect CNC control
Integrated SENSOR torch height control interface
Heavy-duty steel gantry construction
Dual 20mm Cross Axis Linear Ways
Hardened and ground helical pinion gears
Precision helical gear rack
Triple machined floor mounted main rails
Planetary gear heads
1,200 IPM (30 MPM) rapid traverse speed
Enclosed flexible cable carriers on Both X & Y axis
Flexible master carriage system for up to three tools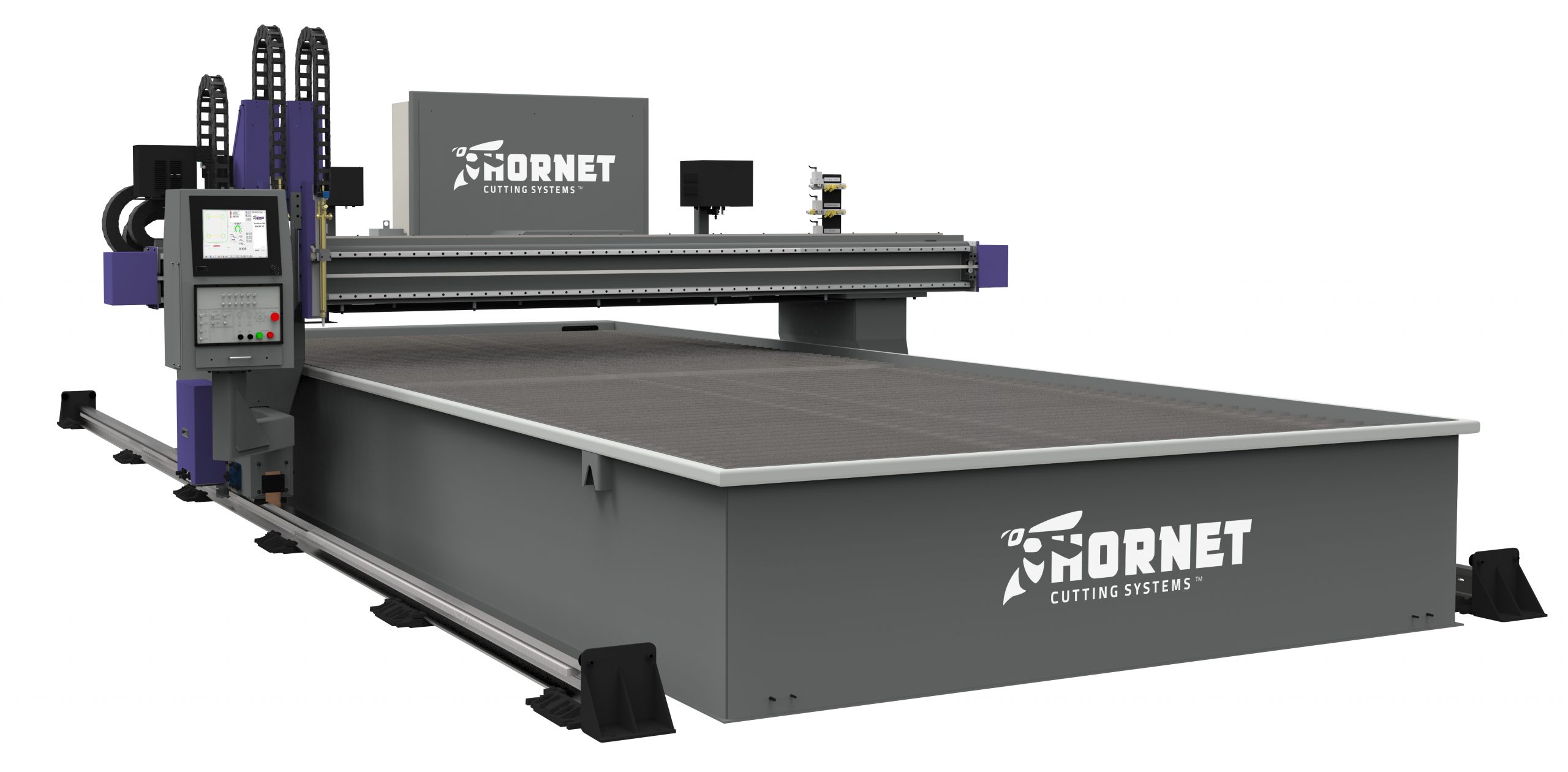 Mega Hornet 2000
The Mega Hornet 2000 CNC plasma machine's huge frame and massive servo drives will deliver decades of reliable service to shipyards, service centers, and manufacturers. A welded and stress relieved gantry beam and fabricated steel end trucks enable the MEGA HORNET 2000 to span up to 20 feet (6.1m) and carry up to 12 cutting and marking processes.
12″ x 12″ (300mm x 300mm) Heavy Wall Front Beam
8″ x 8″ (200mm x 200mm) Heavy Wall Rear Beam
Fabricated & Reinforced 1/4″ (6mm) Thick Steel End Trucks
Hypertherm Automation Edge Connect CNC Control
Slave carriage stainless steel band drive
Low backlash planetary gear heads
1,000 IPM rapid traverse (25.4m/min)
Triple machined floor-mounted rail system (right)
Dual linear ways on cross axis
Flexible Cable Carriers on Cross Axis
Main Carriage for (1) Plasma station, (1) Oxy-fuel station & (1) Marker station
Get solutions you can trust.